5 Feb
I recently went to Rome on a holiday. This is my third trip to Europe and my seventh country in the continent. All these years I have been travelling from India and almost everything had been awe-worthy. The cleanliness, the systems, the ease in commute, the people (or the lack of it), weather, fashion, even the escalators that actually function at every train station !
But I realised a big shift in my travel aspirations this year. Since my move to Canada, the systems, the amenities did not amaze me anymore. Automatically food, culture & history became the only objectives of my trip this time. I was super excited ! I was going to the land of pizza and pasta. A very occasional treat in the life of a person growing up in India. Pizza and Pasta are considered junk food and are the only attractive items on the menu at a kids birthday party. Imagine there is a country that eats pizza and pasta EVERY freaking day. How cool is that ! It is there Dal-Rice / Roti-Sabzi !
I started looking up some youtube links that featured travel tips and food spots, you must visit in Rome. Most of them fail to help with the budget specifications. Hence, you land up at these spots and end up shelling a great deal from your pockets. (Ya, many would suggest consulting with Yelp.com or similar websites but the street food places are hardly listed on such websites). So the best way to find out was to go and explore. And that's what I did. In the process I found some amazing spots that I want to put together for all you guys going to Rome in future.
So here it begins, my pictorial gastronomical blog about the cucina Italiana !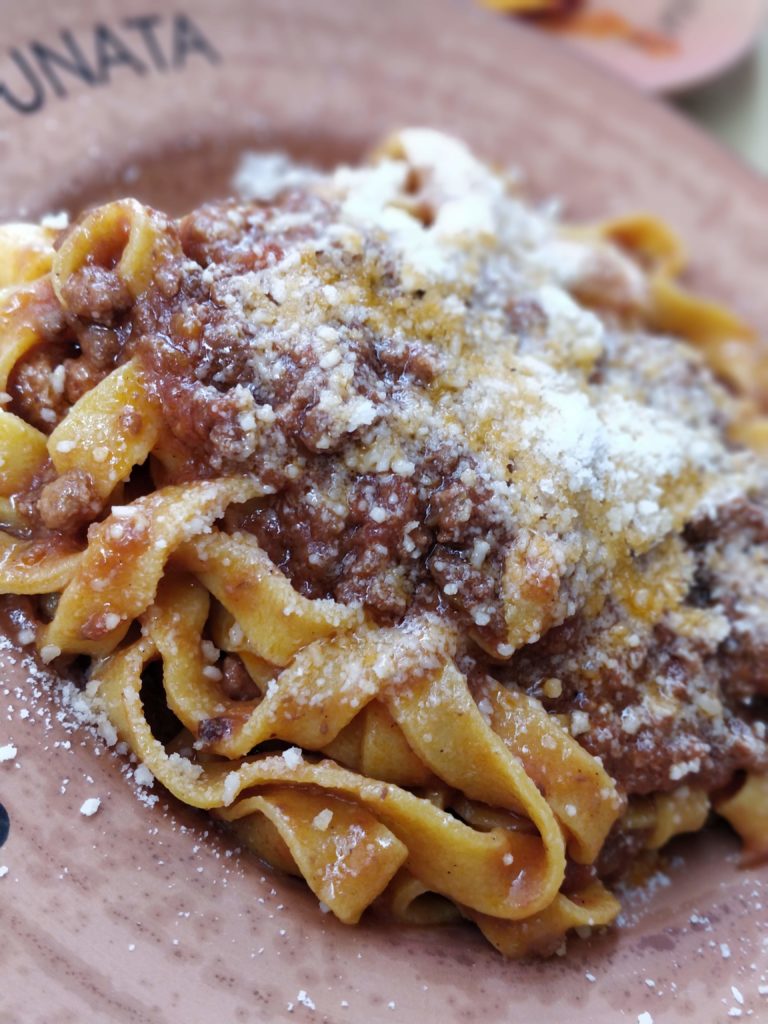 Osteria Da Fortunata was among the most suggested places on many travel blogs and youtube channels. Osteria means a typical inexpensive Italian restaurant. Hence you will find many restaurants having this word in their name. Osteria Da Fortunata on Via del Pellegrino is anything but inexpensive. I insisted on going here, so my friends agreed and it took us a while to find this place (you know its not very easy to find restaurants on your first day in a new country). So we were very hungry by the time we reached here. We ordered some mixed meat balls, some wine – a glass for each one of us – so three glasses of wine, chicken dish, a minced beef pasta and simple pesto pasta (not in the picture) and the bill totalled to 82 Euros ! By Rome standards this is super expensive. Considering that only the mixed meat balls and the beef pasta were good to taste. Moreover, it wasn't even a fine dining experience. A lady by the window was giving live demonstration of the gnocchi that she was rolling up – adding to the touristy feel of the place! So thumbs down to this place for sure.

Osteria Da Fortunata on Via del Pellegrino
Open Every Day from 12 noon to 1 am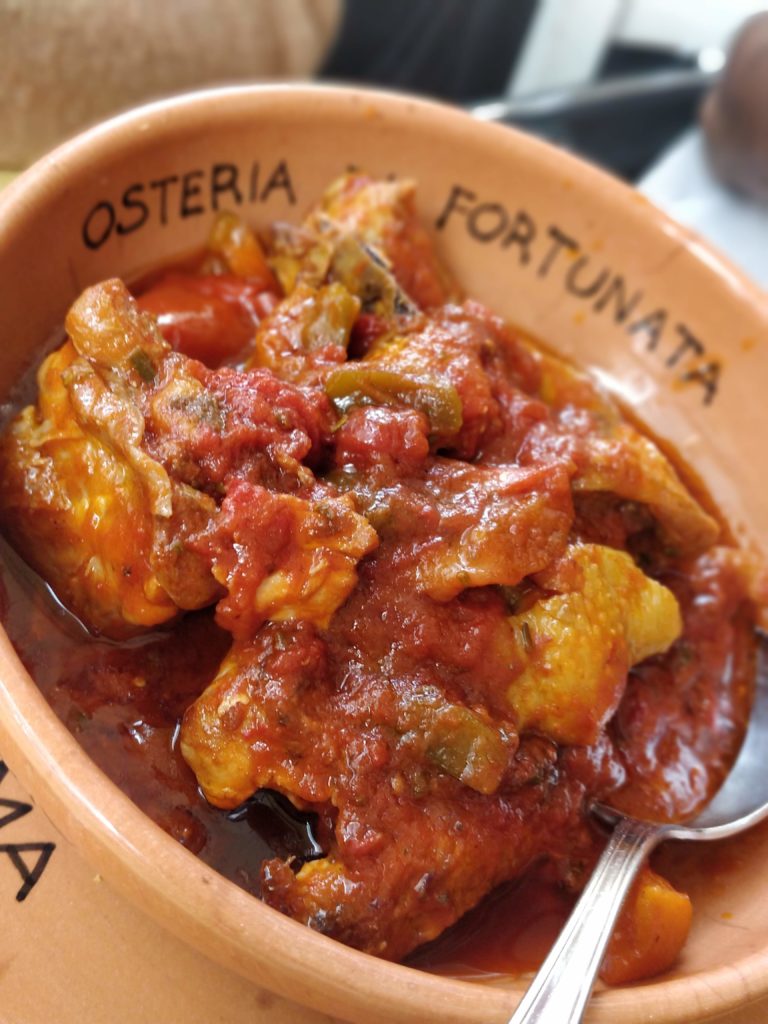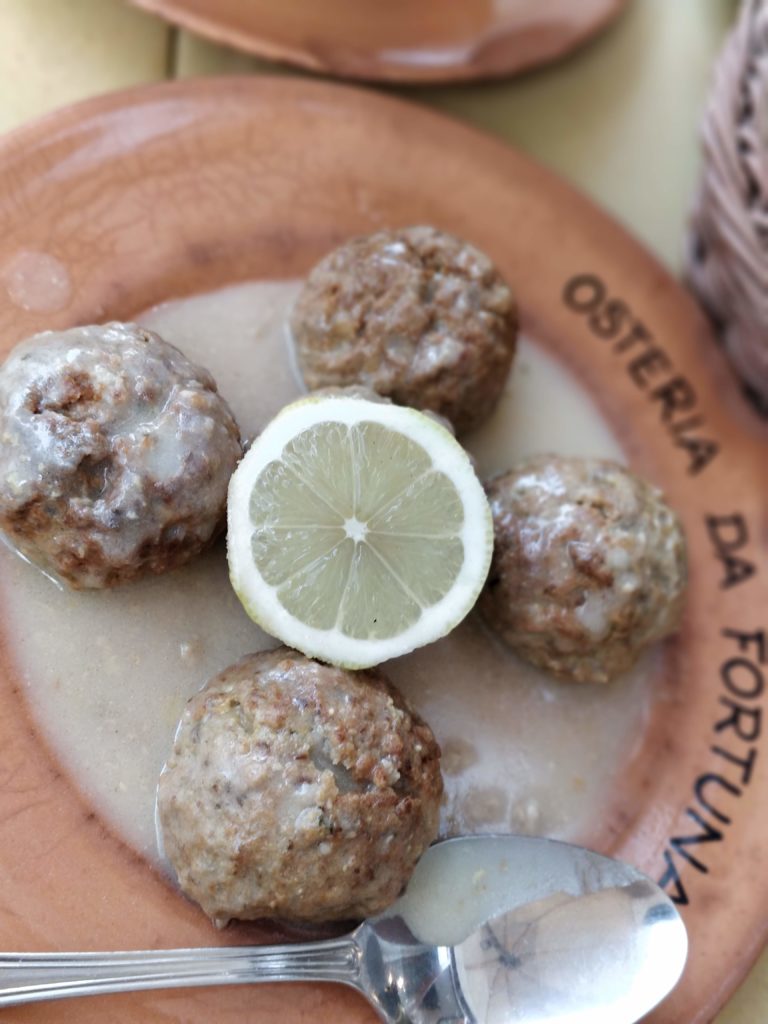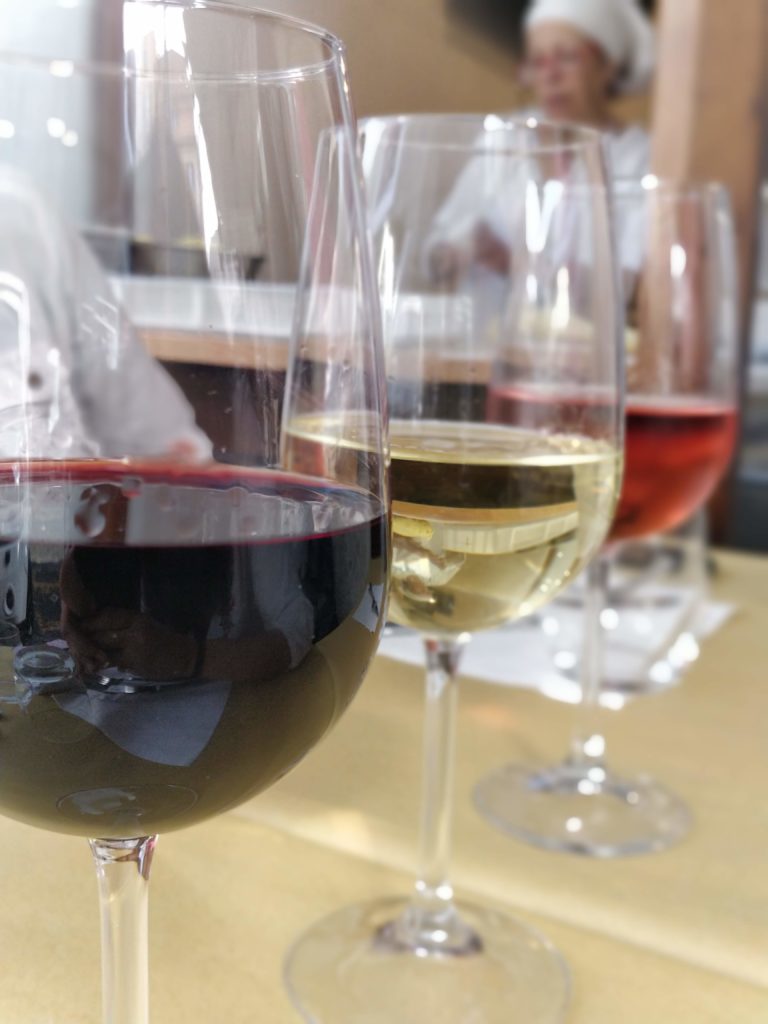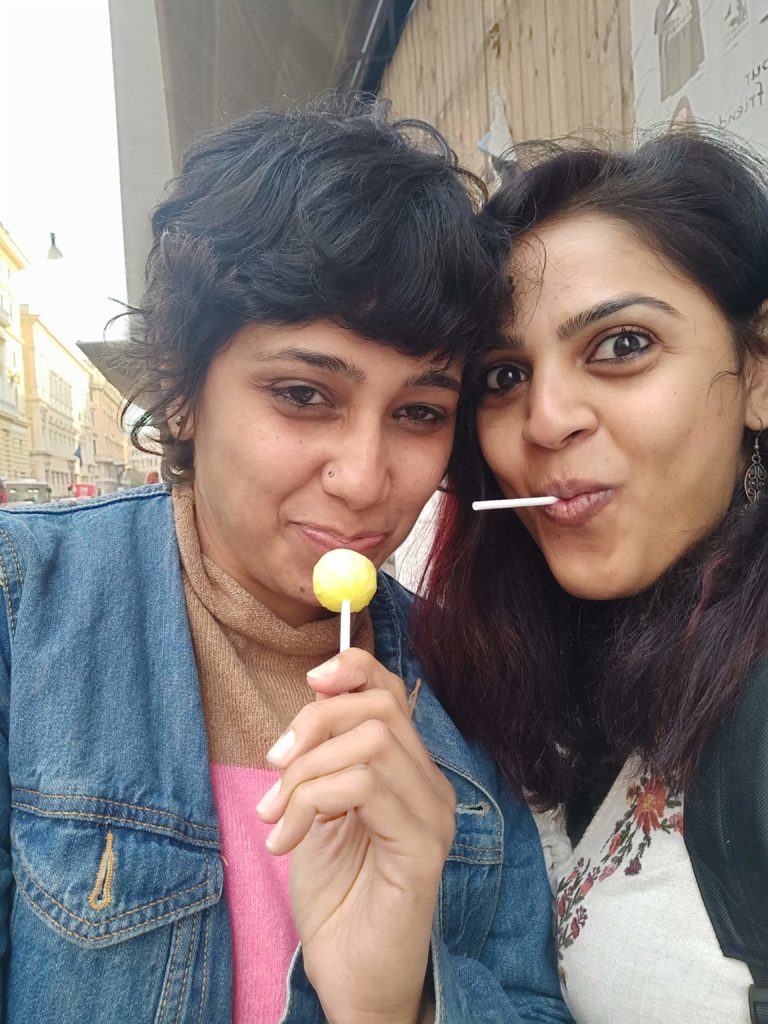 A good Italian friend had suggested me to go to Trastevere, a old neighbourhood of Rome that boasts a bohemian look and old working class roots. It's known for its trattorias. A trattoria is an Italian-style eating establishment, less formal than a ristorante, but more formal than an osteria. We went to this place called Tonnarello on Via della Paglia which had a beautiful setting. After getting off the bus (yes we almost every day took the bus or the metro to go from one place to the other), google maps took us into a somewhat shady looking lane. The tall walls on both sides of the road made it look even more overwhelming. And the amber street lamps added to the creepy feels. But a tourist got to be positive. We kept walking until we reached the heart of Trastevere. It looked like a place that that should be best visited during the summers. But November is actually a good time to visit Italy, I would say. Less tourists, better weather. A little cold by Central and South Indian standards. But I would say it was perfect to just have a layer of cardigan on you.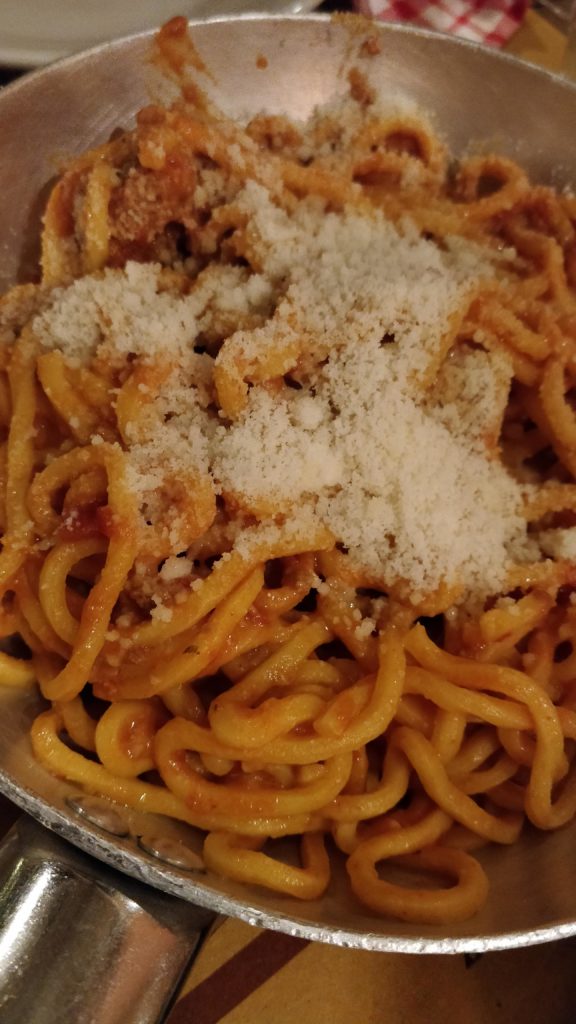 Tonnarello was truly a level up from the osteria kinda places. It had a nice outdoor sitting with live-fire heating for each table. We knew we were in for some good food tonight. This is what we ate and the bill was just about 62 Euros ! Very slightly over our budget, but yes good enough.

Tonnarello on Via della Paglia
Open Everyday 8 am to 1 am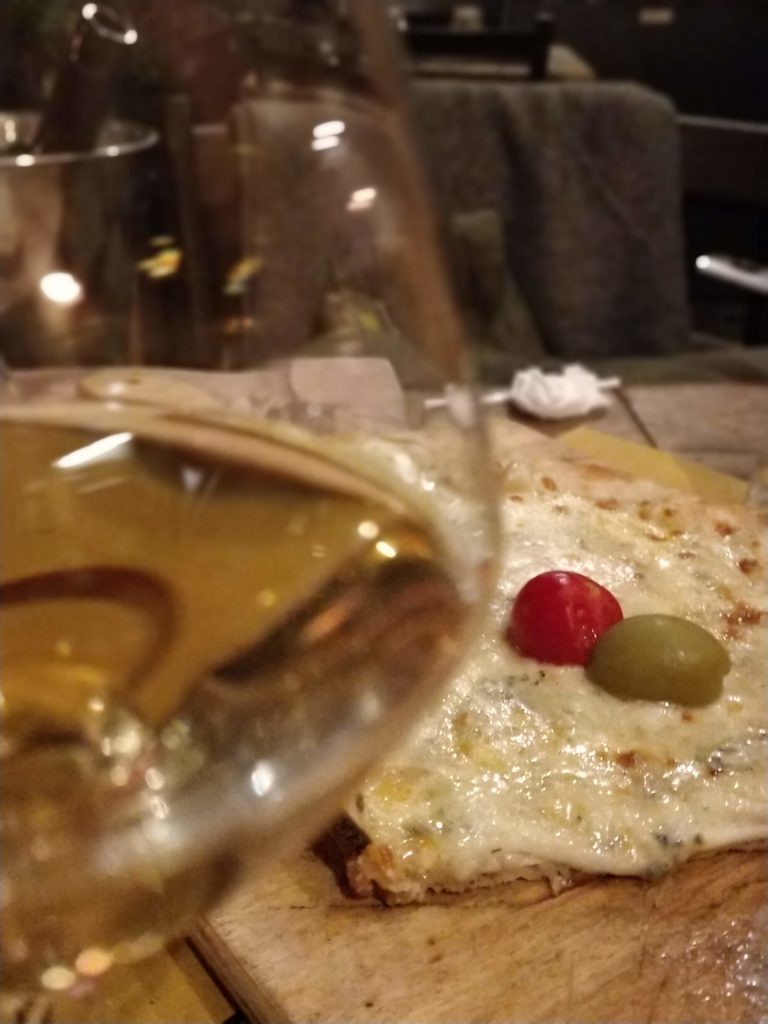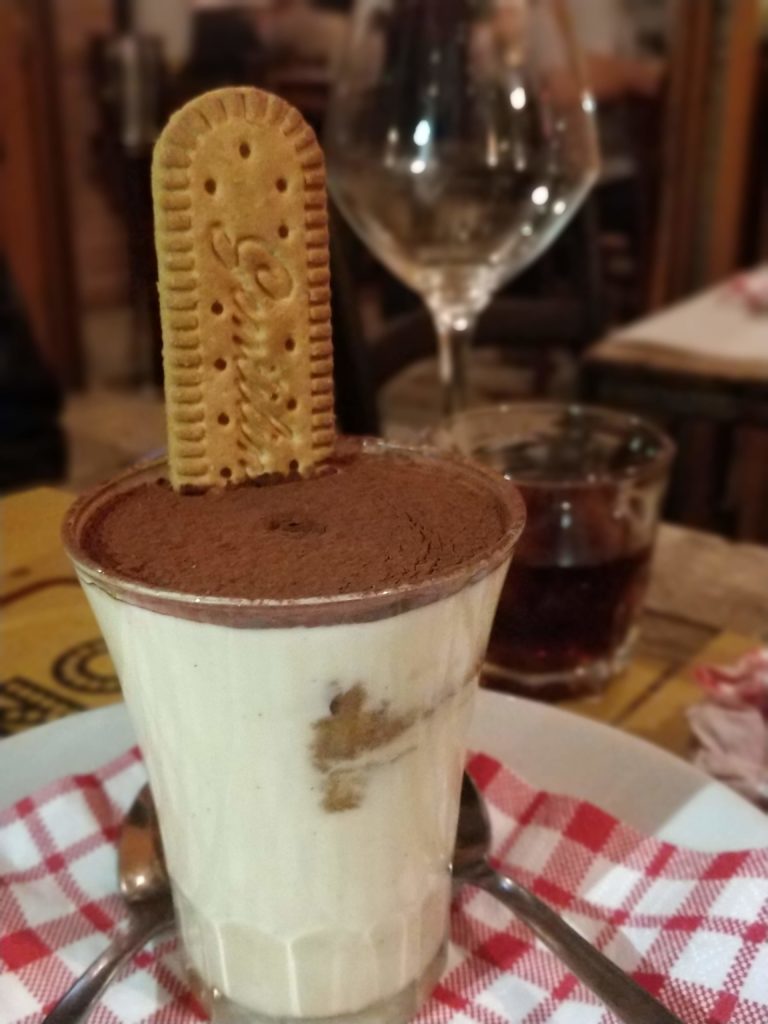 We were still not very happy with the eating out experience yet. We thought of searching for a very authentic, local food place. Local, Cheap yet Good – after all we were Indians travelling in the India of Europe. We were looking for a place where tourist don't go, a place that is meant only for loud Italian families with never ending appetite for pizza and pasta ! And Voila we found one ! The best way to check for amazing food places, is always by engaging in post tour conversations with your guide. And the best guides are the ones who do walking tours. Take my word for this and always, mind you, always book walking tours in any city that you intend to visit. There is no better way to explore a city / place other than by walking.
So this lovely soul who conducts the walking tours in the city, gave us the address to a local Italian food joint. It was like Mumbai's Irani Restaurant equivalent of Rome. This place is named Alle Carrette situated in the Monti district of Rome. Monti is a pretty neighbourhood with vintage shops and back alleys lined with local pizzerias. All Carrette had a tiny door for entrance in a fairly congested back alley called Via della Madonna. It was loud, busy, and poorly lit. The old chairs and tables were not made for fancy tourists, but strong enough to survive the fist thumping of animated Italians during high-spirited conversations. The pictures from this place are poorly lit, apologies if they hurt your eyes. Prima lascia bere !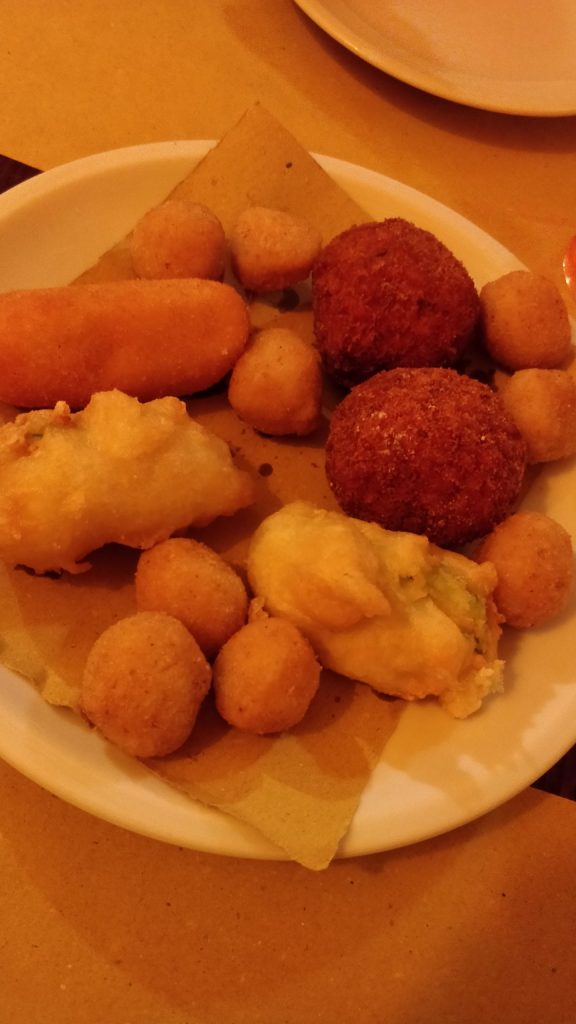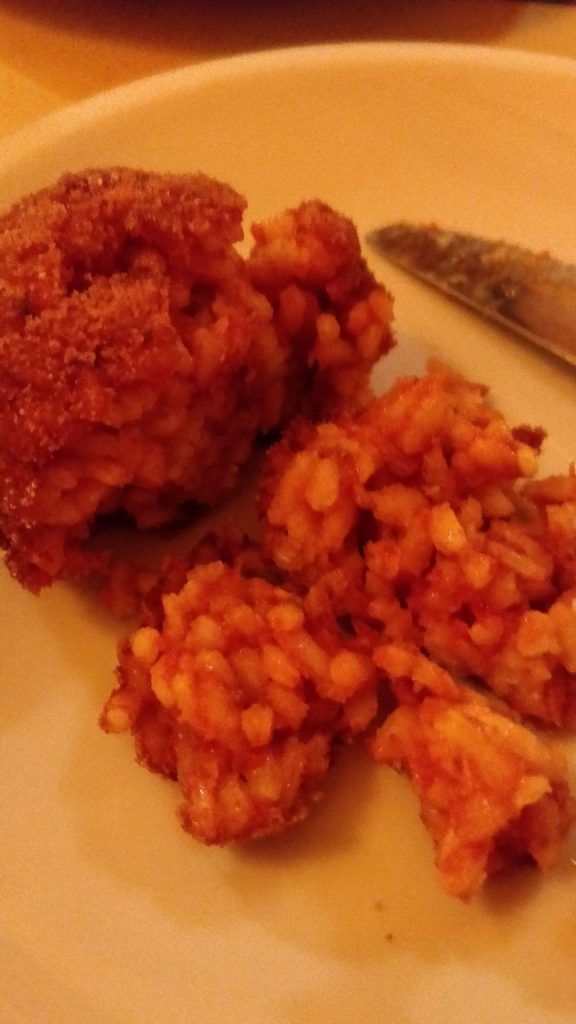 We also ate pizza here but it was so irresistible that we did not wait to take a picture. If you happen to go there please click one and send it over to me. 🙂 This place was so worth the money that we took a picture of the bill.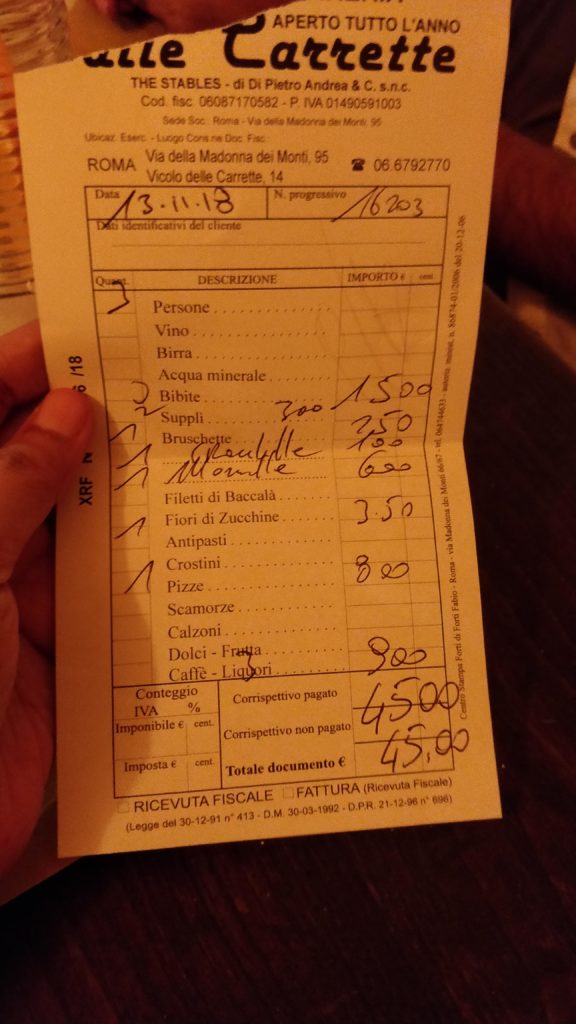 One of the main reasons for my trip was also my Birthday. I was going to be in Italy – the land of good food on my super special day. I wanted to eat something special. And nothing is more special to me than a plateful of good seafood. I went to this restaurant called Osteria Maracuja, located in the Monti area near the Colosseum. So this could be your nice sit down dinner place after a hectic walking tour that ends at the colosseum. I did not look at the menu. I had read enough reviews about the place to be assured that this place serves really good house wines and cooked to perfection seafood. I requested the server to get me the best pasta that he could make by adding every seafood available at the restaurant. His eyes sparkled and I had to wait a bit longer for my birthday special order. What was served to me was this –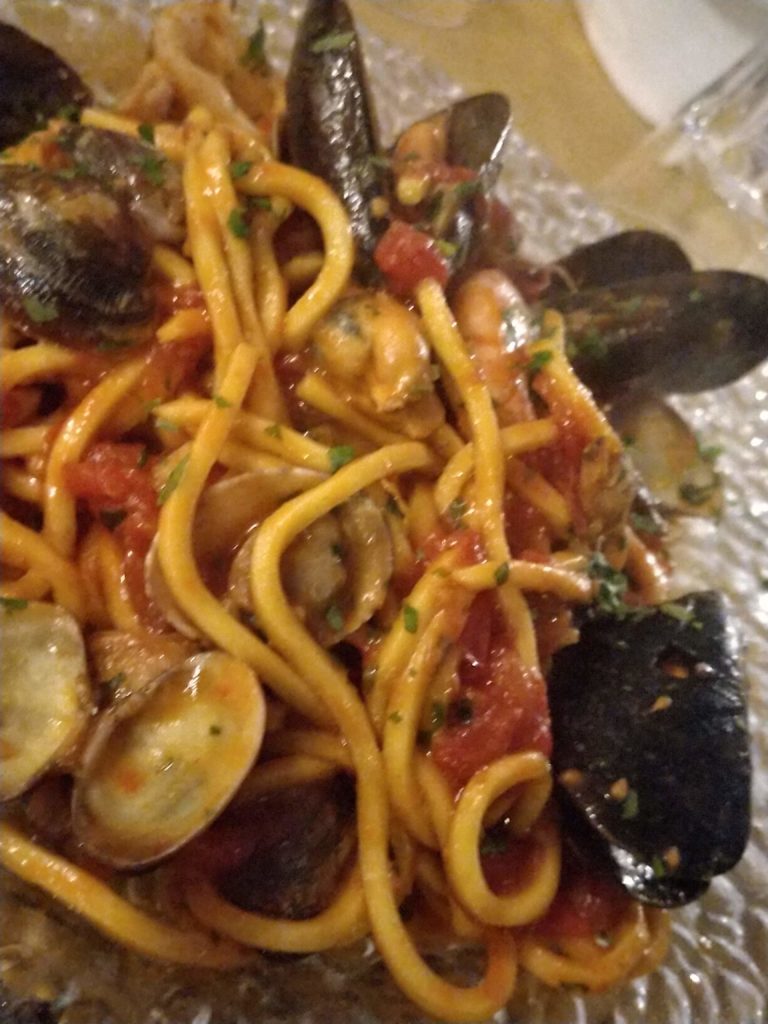 This pasta has squid, shrimps, oysters, octopus, mussels and some anchovies. A perfect last dinner of my almost foodie trip to Italy.
Some Tips :
When you go to any restaurant ask them for a bread platter, almost all restaurants give it for free.
Always go for house wines, because they are best !
Ask for extra parmesan and olive oil, its a must on your table. Just like salt and pepper is a must on every breakfast table.

I hope you try out these places and more. If you find a pasta that you really liked and is a total value fore money. Please do share details about the same in the comments below. Ciao !

Coming Up Soon :
Rome-ing in Italy for Pizza, Rome-ing in Italy for Gelato, Rome-ing in Italy for Stories !
The following two tabs change content below.

Works in Documentaries and Film Industry, Canada Always on a 'SEE FOOD' DIET