2 Mar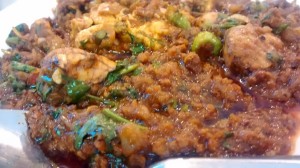 So I have started taking up weekend classes on Indian Contemporary Art and  Modern Art. The classmates are pretty much from diverse backgrounds. So  guess what worked as a great ice-breaker ?
FOOD ! of course !
I met this great bunch of girls, particularly interested in all kind of cuisines. I  thought WOW ! So in between lectures, and art gallery visit we generally hop  into some delicious places.
This Saturday, we thought of going to the GRANT HOUSE near CST Station. Just when you get off the JJ flyover, slow down a bit, as on your left is The GRANT HOUSE, a non vegetarian restaurant cozily tucked in a corner. This place serves lip-smacking sea food preparations, but is mainly known for its Bheja-Kheema Pao. Bheja = Brain (mostly of Goat) Kheema = Minced Lamb Meat. Priced at Rs. 160. This dish is a total paisa vasool meal on-the-go.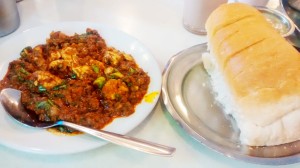 To soothe the spiced soul, then came the solkadhi (kokum flavoured coconut milk).
And the number of posters around you advertising their special caramel custard (priced at Rs. 95/-) is surely not to be missed !
When you go to this place, try and grab a table at the first floor, as it is much better ventilated and has good amount of day light to keep you company. The ground floor is mostly populated by singleton quick diners, mostly working class. That is, if you visit this restaurant during the day time.
Open from Morning 11 till Midnight, this place offers some North Indian vegetarian options as well.
The following two tabs change content below.

Works in Documentaries and Film Industry, Canada Always on a 'SEE FOOD' DIET