7 Jun
Four of us were on our own, on a shoe string budget… Traveling Spain… It was a holiday all of us can never forget, even if we try hard… apart from the many other memorable things WE DID / SAW / DRANK / & ATE; this one remains the best memoir – for its super high adventure quotient.
Let me quickly introduce you to the Heroes of the Night!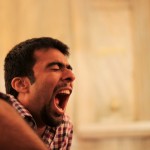 Parth MN – someone who had traveled to Europe a few times before this.
 He was much well versed with the public  transport system but rarely 
 paid attention to other important things around. (He missed saying 'Hello' to a charming  girl.. who greeted him with much warmth)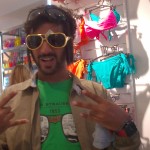 Gaurang Swarge – apart from being my boyfriend, he is 
  a well traveled,disciplined man. He was the warden of
the group on the trip. Asking us to mute our loud Indianess on the Streets of Spain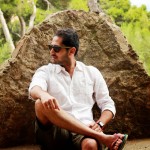 Vinayak Gaikwad – My colleague, a fun beer buddy, partner in almost all my crimes. At one point he even knew my
menstrual cycle dates. We share mannny selfies together !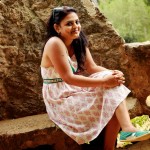 & Priyanka Desai –the only Heroine…the writer of this blog …
for more about me …
go to the About Me section on this blogsite !
SO as I see it, there were two simple objectives of this whole Trip:
– a much awaited Europe tour – peeping into the lifestyle.. the daily living of Europe
– and to travel on an auto pilot mode, without parents, guardians & the givers of unsolicited advice not being around.
We traveled to three major cities of Spain – Barcelona, Madrid and Valencia. What remains etched in our memory is not the city experience, but the adventure ride we undertook on our way to Valencia. Here is the memoir.
Madrid was over for us in just three days, and the plan further was to hire a car and drive down to Valencia. From the Capital City we were traveling to the Coastal Spain. The drive ought to be long – approx 8 hours. We went to the Taxi Booth to hire a car. I remember, while the rest were deciding on the travel, I stood waiting outside the Cab Shop staring at the Dali Museum across the road. Dali with his slender moustache, was looking at me with that sly smile. The Museum was closed, for it was a Tuesday. And when you got nothing to keep you busy, you realize that a long time has passed by.
It was found that the hiring of car was an expensive affair. After much contemplation within the group, we decided to give it a shot. But someone else surely was altering our travel plans! Someone back home, in the ICICI Bank Office, who made certain rubbish rules. The Travel Card, we possessed, refused to make the necessary payment. Only Credit Cards with enormous limits worked! 🙁
The dejected four, dragged our feet out of the cab shop, and marched to the Atocha Railway Station. We had already found out about the trains in the morning. (Smart na!) We asked the lady at the counter, 'which is the least expensive train around?'. For us 'the Vagabonds', it didn't matter how long did the train take, but the price of the train tickets certainly did mater! We were looking for the cheapest way to travel.
So here we are at ATOCHA … The CST of Madrid… But not an inch of mismanagement, on this widely spread station.
There are some interesting facts we got to know at the Railway Station.
1 – When you are in queue and the counter, next to yours opens up… YOU DO NOT rush to the counter and form another queue… The second person from your queue is allowed to go and avail services.
An old man behind, cautioned us, when our feet promptly turned towards grabbing the newly opened counter. The teachings of Indian Railways are not to be executed here.
2 – There is an inquiry counter that really works!
The lady at the counter informed us that we have a train at 17:10 from a station called Aranjeuz. But that station is away from this station. And for that we need to take another train that will take you to the other station; from where you will get a train that goes to Valencia.
Confused??
Let me simplify. For Eg : You are at CST, and you need to go to Pune. And there are no direct Trains to Pune from CST. So you would take a train to Panvel and then take another train to Pune from Panvel.
For those well versed with the Indian Railways… In short, we had bought ourselves Garib Rath tickets.
That's what we had to do, to save a hell lot of money!
"This is the last train to go to Valencia. It leaves at 17:10 from the station and you have only a few minutes on your hand." The lady cautioned us. We thought – RUN!
We got into the train and were finally off from the city of Madrid. As the train entered the outskirts of the city, we saw Spain, that was beyond the mesmerizing touristy advertisements. Small towns, hutments, industrial areas, smoky chimneys and not so fancy houses, were passing us by. The wide windows and spacious compartments, rekindled our memories of the movie Dilwale Dulhaniya Le Jayengey.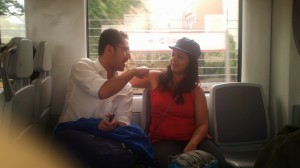 And now we were running out of patience. It was nearing 17:10 and we still had not reached the connecting Railway Station. This was the inkling of the great night that refused to end.
We jumped out of the train, the moment the train pulled into the station. There was absolutely no one. Not a single passenger, not a single railway staff member. We hurried to the ticket office, where a head was sticking out of the counter. We rushed to him. Showed him the ticket and he pointed at a train on the other side of the platform and said "But its leaving right now!"
We once again thought… RUN! Going down the subway staircase and emerging out on the other side, to find two women shouting near the compartment. "Valencia ! Valencia !" We nodded "Yes!" We scrambled inside the train and the automated doors closed behind us. Finally we were on our way to Valencia. Hushha! Relieved, we looked around only to find the entire compartment empty. Plonking ourselves on the seats, it dawned upon us that in the entire scheme of events, we had not managed to grab a bite the whole day.
I merrily went up to the Ticket Checker and asked him if the train had a canteen on board? He said a cold "No!" Any scope of buying food at any of the stations the train would halt at? "No!" – Okay ! Any food vendors coming in on the train? He again threw a straight 'No!' at me.
Frisking our bags we managed to pull out two warm beer cans, and a day old pack of Fries. But sharing is Caring, you see! We happily shared whatever we had and snuggled into sleep.
I overheard someone talking to Parth! "Parth, whats the matter?" "Arey this man is telling me something but I can't understand.. He is giving me something," replied Parth. I was too sleepy to resolve the matter. "Is he asking you to pay him anything?" "No" said Parth. "Haan thik hain naa..Whatever he is giving just take it….a..nd…sl…eep.." I am sure I mumbled the last few words and went back into my deep sleep.
It was night already when we woke up. We had Madrid with a very different impression of Spanish life. A civilization that stays awake and bustling till 2 am. Little did we know that Valencia has a different body clock!
At about 23: 30 the train finally reached its destination station – Sant Isidre
And some fellow passengers, trickled out of the train, onto the station. We immediately pulled out the common phone, called up the Hostel and kept our maps handy. Frankly speaking, at that hour we were dazed and just wanted to crash onto our beds. A call to the Hostel reception raised an alarm. She couldn't understand the station we were at. Actually she could understand my English. Then I realized she couldn't understand English at all!
Secondly my Talk Time was running low. And the faster I was trying to make the conversation, the panic started creeping on, all the four of us. "Guys I think we are at the wrong station!" I managed to tell everyone in between the conversation. Then someone suggested I should spell out the station name, so that she will understand where we are and can hence guide us further … so I started spelling out …S… A….N….T…..I…S… beep… beep… And there goes my mobile phone balance! We stood there, thinking about the next POA. The map, and the hostel address is all we had. The station was at a relatively remote place. With NOTHING around it. On the steps of the Sant Isidre Station, the yellow street lights smiling at us. We were looking for a new idea.
A big fat family had come to receive someone at the station. They stood in a group at the other end of the steps. All we could decipher were happy Spanish words. I think they were meeting up after a really long time, and were not too happy to be disturbed by our panic questions. When I showed them the address, a sudden chatter broke among themselves. Giving us a sense, that we had terribly gone wrong with our travel!
One lady in her broken English tried to explain that we were very very far away from our destination. This seemed to be the outskirts of the City of Valencia. And we still had a lonnng way to go. She suggested that we should just take a cab and leave. And the station was getting lonely by every passing second.
The troubled yet intelligently frugal us, thought that if its too far, then taking a cab should not be a great idea ! 'Lets try and figure out!' we collectively thought.
Vinayak and Gaurang were super good with Maps. Hence their eyes immediately started surfing the Maps put up on the Station Walls. We saw a Station Staff approaching us, and thought he would help us with some directions! But to our bad luck once again, he was too, bad with communicating in English. And may be that's fine, as he was manning a railway station that would never ever be visited by any conventional tourists. Except the adventurous us!
In the midst of the chaos where he was trying to explain to us where we need He did spot the tickets in Parth's hand. Parth was religiously holding onto them, without knowing their utility. Flashback : you remember I told you about this man who was trying to speak with Parth, while we were all fast asleep, in the train journey.
These tickets were from the same conversations. But the staffer was still very much clueless. Only thing he told us was that 2 metro lines come out of the station and in a few minutes the last train could be passing by. So the ticket officer in the train was probably trying to explain the same to Parth; that we all need to take a connecting train to go to our destination station (closer to our hostel address). And that connecting train needs to be taken from this station Sant Isidre, and the tickets he gave us were valid for our journey onward Sant Isidre till the Station called Xativa, which in reality was closer to our hostel.
Ohh !!! Accha … Aha..
Okay! understood!
(done with loads of self abusing)
Now! What next?
He was too kind, he helped us reach the adjoining station, where the trains of local commute stop. It was a specifically dark night. None of these scenes were imagined ever before in our Europe dream trip. The only good thing being, the four of us were together. And the collective strength kept us going. The last train for the night, was about to arrive at the station, which will take us to Xativa. Well that's was we believed. Strolling our feet on the sleepy platform, we stood there looking for traces of co passengers who would possibly board the same train. You the kind of relief one finds in numbers!
In fact on the platform opposite to ours, we saw a few waiting heads crop up – mostly working class people, finishing their late shifts and heading home. This seemed to be the last train, as we saw the railway staffer himself waiting for the train. Again fear started creeping on. We spotted a man sitting on our platform, far away from us. He seemed to be an immigrant from Africa. Immigrants might be good with their English we thought. "Let's go and talk to him," Vinayak suggested that he and Gaurang would go and talk to him while the rest two take care of the bags and baggage.
So here is what they narrated to us after a long conversation with that man. "Guys!!!" They started with a hint of panic in their voices. "This train will not take us to Xativa. That's a different line … This line will take us to the station called Angel Guimera. And from there we might get a cab to go to our hostel…"
By now, Vinayak and Gaurang, had gone through the maps and figured out this last option for us. But the railway staffer had not misguided us. The train to Xativa does come to this platform, but we had missed it by a few minutes.
GOD somehow take us to our hostel RIGHT NOW …. ANYHOW !!
The metro arrived. We boarded. 'At least this will take us to someplace where there are people around. Away from this haunting silence' we thought.
The train was crowded. We paid least attention to anyone around. We hardly spoke with each other. Images of the horrible day kept flashing in front of our eyes.
Gaurang and Vinayak kept a keen eye on the stations passing by. "Chalo…" They said … "Next is our station."

At Angel Guimera, we had many passengers getting off with us. "Now no more adventure guys … Let's just take a cab and ask him to take us to the hostel …" All of us echoed.
This being the last train, many people from various pockets of the multi layered metro station, started……. Out of the station … The bustling sounds, were soon replaced by echoing sounds of fading conversations.
Our sleepy eyes noted these observations of the new city that we had just entered. The Spanish city of Valencia! The exit was on the third floor. Our tickets were ready to be swiped.
"Hell… No.." The machine refused our tickets, as they were to be meant for Xativa Station and not this new station we had figured out as an escape from the super adventurous day that refused to end. Mumbles in foreign languages were passing us by. Commuters were rushing out of the station, as it was 11:30 pm already.
And in all of this routineness, we were not the only with the unusual! There was another lady who went through similar situation – Trying to swipe her ticket at each of the exit booths. And the door just wouldn't open if the right tickets are not swiped at the right monitors!
And yes, we had seen the lady travel with us, in the same train! Suddenly, I found myself observing her keenly. She may succeed at some point, so we could follow suit. We thought! 😀
The slowly and steadily emptying of the station, brought us to weird conclusions. 'We will now be stuck at the station till morning shift staffers come' 'we will be arrested and put behind bars for forging the travel, being at the wrong place with the wrong tickets' 'We cannot make calls to anyone .. We are out of balance…' 'This is the end of our trip' etc etc ....
The station was now almost empty. Vinayak had gone onto the lower levels to seek assistance from the station authorities. But they seemed to have left their work stations already. Sleep too had fled away from us.
We saw a couple emerge from the lower level happily crossing the exit doors with the tickets. Their romance at the empty metro stations must have kept them in for so long. The lady spoke with them in fluent Spanish. And we could guess the conversation, due to highly animated actions and tones.
So Mr Boy Friend was initially not interested in this whole 'helping out' business. And the kind Ms Girl Friend patao-fied him – He Agreed. Offered to buy a ticket for this lady. The lady refused it. Self Respect you see! She handed over a card to him over the gates. Please note all the conversations were happening over the stubborn gates. Suddenly the gates, possessed immense character. Some sort of a villainous role!
We played innocent spectators of this dramatic conversation. And the lady, suddenly turned around. Asked us, "you too do not have tickets, is it?"
I said, "No!" – the most puppy faced answer ever in the history of emotional blackmailing ever!
She said, "Ok follow me!" She indicated that when she swipes her ticket on the gate monitors, we should exit along with her. So basically when the gates, that are programmed to allow only one person out when open, we would attempt at making an exit for 5 people + 9 bags (2 bags held by each of us and the lady had her own hand bag)
We thought… ummm… No we didn't think twice. We said, "Yes!"
"Where is Vinayak?!!!" Parth raised an alarm!
"Let me go get him..," rushed Gaurang. And I remember him screaming from one end of the station to another, to get Vinayak here in time. To make the most of the last opportunity we had, to get out of this station.
Vinayak speedily joined in.
The lady was ready to make that swipe. As I now recollect it, ever micro second that we spent here on, is attached with a background score of heart-beats!
I stood glued to the lady's back. Gaurang glued to mine – then Vinayak – and then Parth. All of us with 2 bags each in hand. And here we go…!
She made the swipe and we pushed each other out of the gates just in time. Turned around to find Parth's bag stuck in the gates determined to close. We screamed. Parth pulled his bag out, with full force. And all the four of us rejoiced!!!
Hush !!! finally we are out! Yippies.. Hurrys… etc etc… happened… Gaurang went on to thank the Spanish couple jumping of joy. For they had some taste of adventure that night!
We stood in shock for a second, but then turned towards each other. Hugged… Jumped of Joy… Smiled… Laughed… Thanked God! And then clicked this picture, freezing the memory forever! A lively reminder of the dramatic day!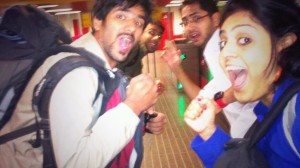 No matter how many museums, landscapes and breath taking monuments we saw after that, thinking of this particular night still sends chills through our spines and a mountain of adrenaline rush as well. Wink! Wink!
The following two tabs change content below.

Works in Documentaries and Film Industry, Canada Always on a 'SEE FOOD' DIET