25 Jan
All it took was just a call to get an appointment with Taufiq Qureshi. The world famous Indian Percussionist Taufiq Bhai. They say he introduced Indians to the instruments of percussion value.
I think, the fact that i was introduced to him by Legendary Trilok Gurtu made a lot of difference to the way he remembered me, when I called him up. I was assigned to interview him, for the TV channel I work for.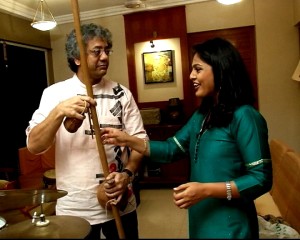 He said, "Yes! come over to my music room .."
Next shot, I was plonked onto a sofa just outside his music room
I rolled my eyeballs to get a good look at the room; and the small artifacts it was carefully holding onto. The door was shut. With some thuds, and tinkles off the drum-set treading through the opaque, I remained seated for a while.
Bronze pieces, idols of heritage value, diyas of showcase merits, utility appliances from the era gone by. It seemed like a small museum the room was.
The door opened with a warm welcome and greeting by Taufiq Bhai. We rearranged the room to suite our show production. The Drum Set was brought into the center, lights were mounted, sofas shifted, and microphones turned on.
When you are the producer – anchor for the show, the former always takes an upper hand over the later, in my case. The change of roles gets too taxing, on the mental front. Especially when you are in an overwhelming company of a celebrity.
In such situations – Resort to your extracurricular knowledge, I say! I glanced at a painting right behind Taufiq Bhai and blurted out,
"Is that an Anjolie Ela Menon ?"
"Yes! Do you follow art ?" (looking at me, impressed, he answered and asked back.
I replied, "Yes, She is one of my favourites… "
And our conversations just took off from there, and transformed into an evening – a collector's memoir.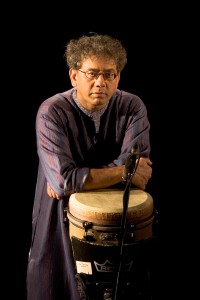 Taufiq Qureshi is son of the Great Late Ustad Allah Rakha Khan sahab, and younger brother to the SarTaj of Indian Music, Ustad Zakir Hussain. "For me they are the A to Z of music. A for Alla Rakha and Z for Zakir Hussain," he tells me. "When I think of my Abba ji (his father, Ustad Alla Rakha Khan), I see the image of Lord Brahma – the creator, Zakir bhai to me like Vishnu … he incarnates the imagery of Lord Krishna when he performs." and for the sake of completing the synecdoche of the Trinity (Brahma Vishnu Mahesh) – I may take the writer's liberty to call him the Shiva… in this case not the destroyer..but the transformer in true sense.
He became the rivulet that found its own discourse, without being detached from the rhythms of Tabla that streamed in the family of the Qureshis. His most early influences of alternative music, he tells me, were of R D Burman's songs like 'duniya mein, logon ko..' Taufiq bhai recollects, that this song really had him practicing "the 'breathing' sounds through the day, so much that his mother thought his kid had gone crazy! "I saw and felt rhythm in everything… the used bottles, the steel dabbas, tin cans, almost everything. For me, body is my instrument and rhythm is everywhere."
Saying this he immediately breaks into a melody with a lyrical message, "taal mein lay sey chalna, iss lay ko tum thaamey rakhna, kabhi na tum lay se hatna, tum samaj gaye naa!," this was Abbaji's teaching which he has held onto for life. Just like his many unconventional percussion instruments. As you spend more time in his music room, he would happily take them out, one at a time. One such instrument, hailed from Brazil, a folk instrument called Berimbau. "This one is special," he tells me, "becasue Zakir bhai gifted it to me."
Berimbau is a single string, musical instrument that requires a pebble, to strike and make the percussion heard.
After watching him perform live, exclusively for me and my camera. It was time to get some grab some food. Hunger was striking some chords in my tummy.
Celebs have a penchant for certain foods and food-places. Taufiq Bhai took me to his favourite, Jaffer Bhai outlet near the Grant Road in Mumbai. Over Mutton Biryani and Mutton kurma, we relished our conversations whirling around various topics. I asked him what is the one delicacy he misses the most in the modern food culture? "Dabba Ghosh… a very traditional Kheema preparation by my Amma… cooked in complimenting company of eggs!" he said. Listening to his deeply marinated stories of world cuisine, I was biting into a well cooked Mutton soaked in tasteful spices.This evening turned into such a memoir.
Music, food and an august company, surely adds flavor to your life !
The following two tabs change content below.

Works in Documentaries and Film Industry, Canada Always on a 'SEE FOOD' DIET